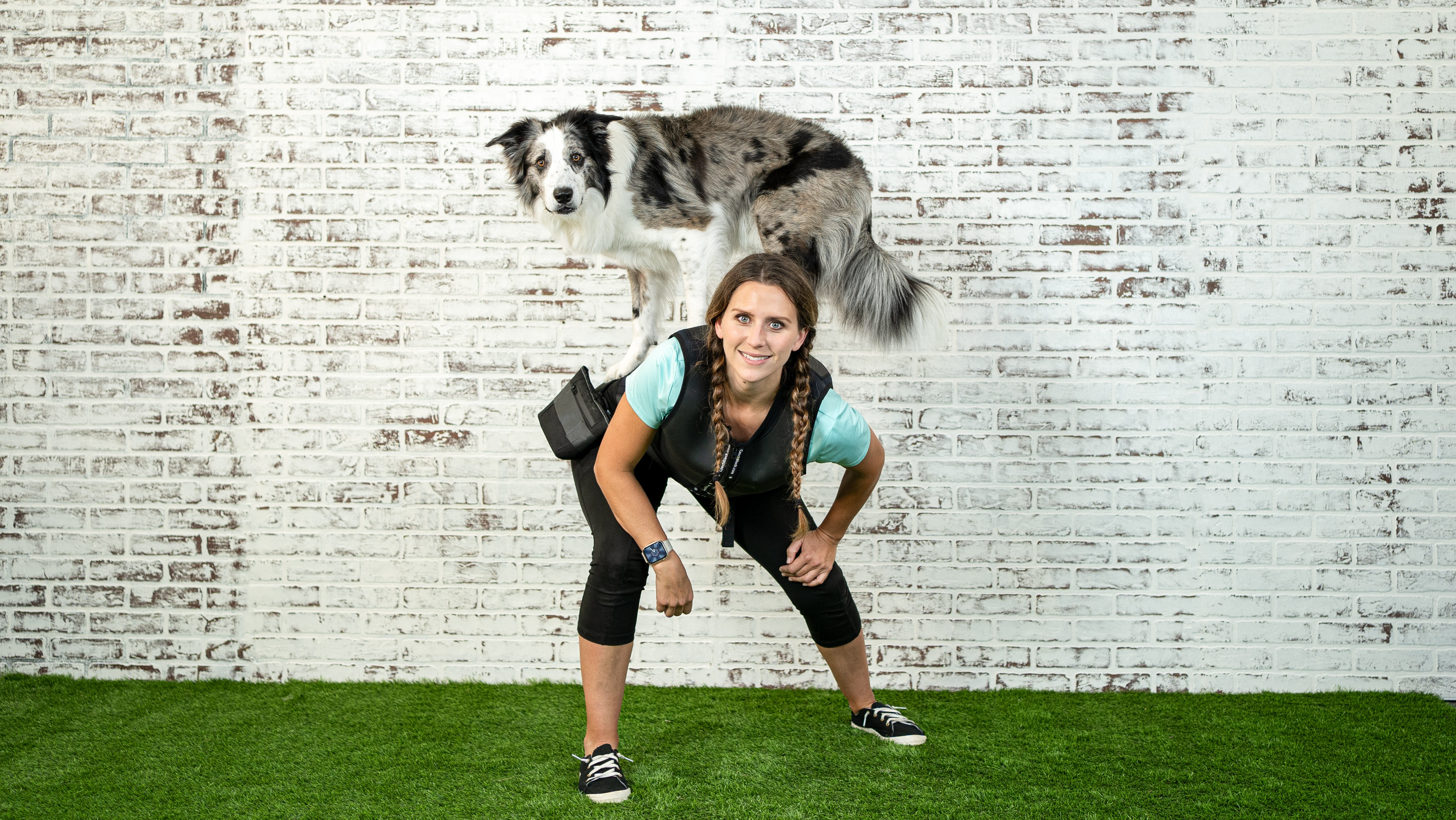 "Take chances, make opportunities." - a motto Chrissy Joy has lived by for over a decade. She created this at time when she needed the motivation the most - to pursue long-shot dreams paired with hard work.
Chrissy's mission is to encourage inspiration and fuel passion through coaching and content creation. She believes that training is just one aspect of your journey with your dog. It is also about you and your dog's mindset at every training session. By tapping in to your goals and creating a plan with positive-based training methods, you will achieve success and strengthen your bond with your dog.
From equestrian to dog trainer, Chrissy discovered her purpose in life was working with animals and helping others feel empowered with their pets. It started with the adoption of a mixed breed puppy named Beasley and diving in to the world of dog training. After attending classes, she received an opportunity to become a trainer at BFF Pet Services.
As Chrissy's skills for training rapidly developed, she also became passionate about trick training. Not too long after was she revisiting her production and acting background once more and learning how to work her dogs on set for TV and film.
Chrissy has achieved some amazing titles with her dogs, collectively known as The Joy Crew:
2018 National Stunt Dog Champion
2021 International Trick Dog Champion
Two Youngest Titled Champion Trick Dogs in the World.
Chrissy has now built a full-time career that involves working The Joy Crew for film and commercial advertising, live performances, appearances and show host for both television and podcast. Her dogs have appeared in hundreds of print ads, video, films, live appearances, podcasts and many more noteworthy media outlets, including HBO, LIONSGATE, Chewy.com, Paramount, NBC, The Tonight Show, and Bravo to name a few.
Her goals for today are to bring educational, fun, and digestible courses that can help all pet parents feel as though they can achieve higher areas of learning, fun, and connection with their dog. Take a chance by trying something new /$: you may find doors opening to many new opportunities!
Chrissy's full bio and connections can be found on ChrissyJoy.com.
IN THIS COURSE
This course helps you establish a strong foundation for your training - especially trick training. Chrissy provides you a toolbox for training techniques that you can continually reference throughout this course. The Toolbox is a resource to help you build clear communication and develop skills from novice to those most advanced tricks and moves. 
Chrissy has become a talented performer and trainer by using positive-based methods with a polished and professional style. Each lesson is built to have a novice, intermediate, and advanced level - allowing you to grow at your own pace while setting you up for more complex skills. 
Through her coaching, Chrissy Joy challenges her students to create a seamless connection with their dog from the ground up. This helps her students become more a professional team, utilizing critical thinking skills, and therefore opening the doors to more opportunities within the dog performance or entertainment industry as well as dog sports. 


WELCOME TO YOUR TOOLBOX

Within the Toolbox, you will be provided an understanding of the following principles and methods;

You/Your Dog's State of Mind
"The Equation"
Luring
Reverse Luring
Fading the Lure
Use of Body Language and Verbal
Creating Distance
Free Shaping
Use of Rewards

THE WHY
This course was developed to teach you fundamental tricks and movements that have brought success to The Joy Crew in their training journey. Each of her dogs has a different food drive, toy drive, personality and path for learning. As she has learned about each style, Chrissy found that this foundation has only proven as a solid start to rise from novice level tricks to the most complex of actions. This course's purpose is to educate and create a solid line of communication with your dog to inspire confidence and eagerness to learn as a team.
SKILLS YOU WILL LEARN
Using the guiding principles of the toolbox, you will not only learn how to perform a trick, but you will also learn to add duration to the behavior as well as distance. You will be given the opportunity to also join Chrissy's private Facebook training group where she provides insight into her tricks and performances.
You will learn, step by step, how to be polished when performing these tricks.
Focus
Paws Up
Pivot
Back Up
Orbit
You will also learn;
Placement and Timing of Rewards
Body Positioning
Hind End Awareness
Impulse Control
Removing the Lure
Verbal and Body Cues
PREPARE TO LEVEL UP
Following this introductory course, Chrissy Joy's upcoming Trick Training Series will begin with live, interactive, courses where you can gain weekly feedback on your skills. This course will prepare you for that next level of challenge and remain as an Evergreen course that you will continue to have access to.
Check your inbox to confirm your subscription